Art, science and innovation go hand in hand to make Britain great, not as an exercise to drive down cost
Introducing a new innovation in memorial tablet design, welters® Cemetery Art tablets are available in a choice of frieze styles based on nature creating a truly unique opportunity for commemorative expression.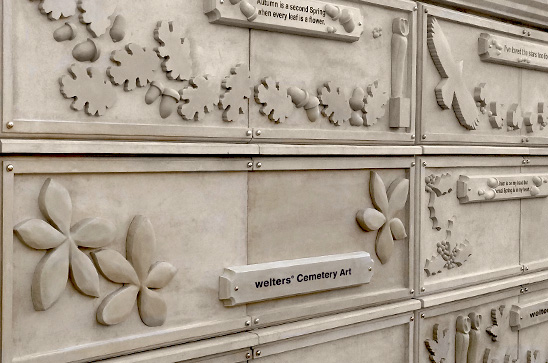 welters® continue to invest heavily in distinctive industry specific systems development using their all in-house and genuinely original design driven concepts.
The Cemetery Art tablets are a unique and cost effective design variation option to memorialise in a very personal way, which at the same time uses themes such as nature and landscape.  The system further enhances the architectural landscape and adds aesthetic value to any cemetery through the welters® Cemetery Village™ livery. Beware of expensive imitations.
Do you have sections or land you believe to be full or unsuitable for burial?
Please contact us for a free evaluation of your most difficult land for earthen burial and let us purchase, lease or partner with you on a profit share scheme.  Alternatively, we will  design manufacture and install bespoke directly client purchased schemes to allow you to generate full revenue.

Reduce your environmental impact by utilising your existing land before extending your services into new site