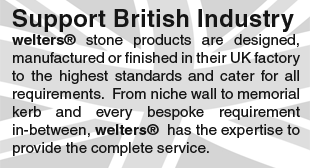 Project Tendering Notification
welters® will tender for or provide quotations for all your memorial procurement needs. In all instances, please notify procurement@welters-worldwide.com
Cremated Remains Products
welters® manufacture a wide range of granite cremated remains products for above and below ground interment and commemoration, all at very competitive prices. The Memorial Book memorial has provision for 208 memorial plaques and offers a high revenue return within a small footprint.
Visit us at www.welters-worldwide.com